Chicago Shuffleboard Bars, Leagues and Tournaments
Do The Chicago Shuffle
Chicago Shuffleboard League
We're honored to host Chicago's premier shuffleboard league! We've partnered with Bridget McNeill's, a lively Irish pub in Lakeview, to put on weekly adult shuffleboard competitions for those looking for some light table game competition (and a good time). 
Bridget McNeill's has a shuffleboard table (and darts) for Bevvers to catch a game between drinks, including pitchers of beer and mimosas, a weekend special. 
Cool kids compete in shuffleboard at

The Boundary
The Boundary hosts shuffleboard leagues throughout the year, such as the summer 2016 Thursday night league. To sweeten the deal, league players receive 20% off their tab on league nights - peruse the menu here.
Chicago Shuffleboard Tables
Find where to play shuffleboard in Chicago.
Play shuffleboard, billiards and arcade games like Golden Tee and Harley Davidson Pinball at Nick's Beer Garden (above).
The Garage (above) in Norwood Park has a shuffleboard table in addition to darts.
Roscoe's Village Pub has a shuffleboard table in back, and hosts tournaments from time to time. This is a great neighborhood spot in Roscoe Village to have craft beer or a bloody mary.
The Game Room at the Chicago Athletic Association is a gamer's mecca where shuffle board (and many other games) are free to play.
Shuffleboard is free every day at The Drum and Monkey, where you can also catch live music.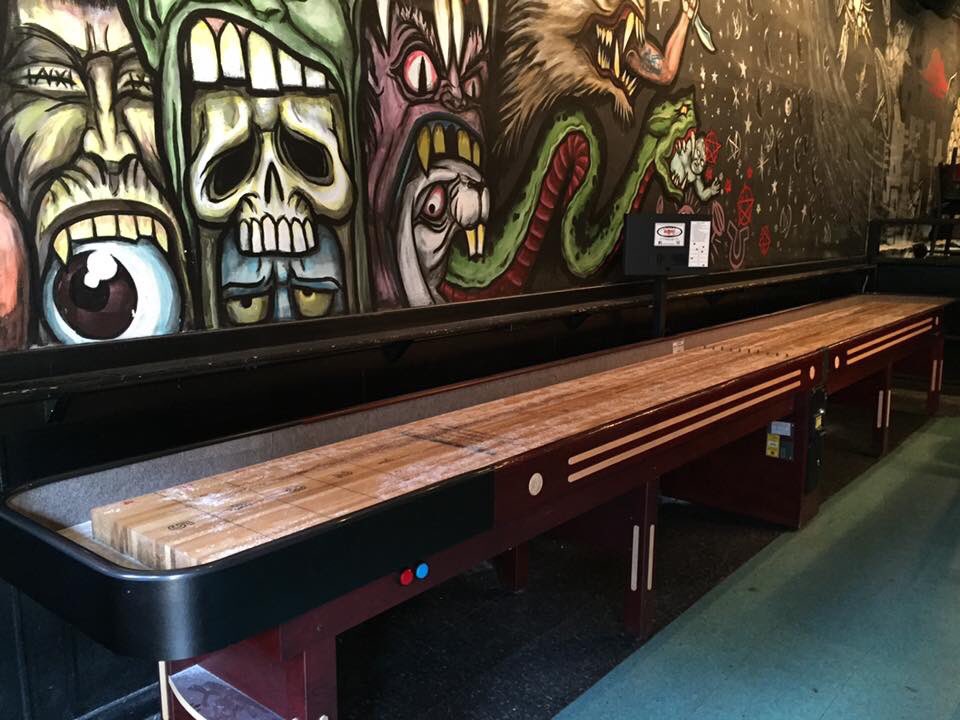 The Flat Iron (above) brings an artistic vibe to your next shuffleboard game in Wicker Park.
Toons, Rocks North Center, and Fat Cat also have shuffleboard tables. Shuffle on over to one of these fine establishments for a game with friends! If you're an entertainer, learn these sweet shuffleboard tricks first.
K's Dugout in Andersonville has a video shuffleboard table:
You can also slide in to Weegee's Lounge for a shuffleboard game:
Want your own shuffleboard court? Tour Greens specializes in outdoor shuffleboard courts in the Chicagoland area.