Check Mate: Where to Play Chess in Chicago
Updated June 16, 2017
Jefferson Memorial Park every Thursday night at 5:30pm 
Calling all intelligents and Intelligentsias! Chicago is home to many great coffee shops that cater to coworking, reading, art, music, and simply lounging. Have you ever considered that coffee shops are also a great place to play chess with a cup of coffee in hand? Here are a dozen spots in Chicago that we feel are top notch for grabbing a great cup of coffee or another drink and play a game of Chess, in case you can't make it to the New Orleans Chess Fest.
Dollop Coffee & Tea
Photo: Dollop Coffee & Tea
4181 N Clarendon Ave, Buena Park/Uptown
This one's a twofer! Play chess (or other games like Battleship) while eating chess pie. Dollop brews local Metropolis Coffee, and has partnered with Hoosier Mama Pie Company to sweeten your day. While Dollop has five other locations in Lakeview, Streeterville, Downtown, Gold Coast and Evanston, we recommend the Uptown location as your go-to pon (and coffee) shop. 
Kristoffer's Cafe & Bakery
Photo: Yelp
1733 S Halsted St, Pilsen
It's difficult to say which is more delicious, the tres leches or specialty coffee drinks, but we can all agree that Kristoffer's is one of Chicago's best coffee shops, particularly for relaxing with a good book or moving that rook. Brewing Intelligentsia Coffee, Kristoffer's has a full menu to try while you ponder your next move with a cup of joe in hand.
Jackalope Coffee & Teahouse
Jackalope Coffee & Teahouse serves Metropolis Coffee and a whole lot of personality. Check out their musical performances, featured local artists, and fun events - at a recent 'Drawmageddon' a local artist offered to draw patrons as a Simpson character! Grab a Doh!nut or something from Pleasant House Bakery to accompany your chess match. They also have Stumptown cold brew to enjoy while you play.  
Julius Meinl
Photo: Center Square Journal
4363 N Lincoln Ave, North Center
Julius Meinl would be the best place to have a Vienna Game. After your opening moves, peruse the menu of traditional Viennese coffee and pastries  - this authentic cafe has such a great ambiance it's like being transformed to the imperial city!
Java & Mug Cafe

Photo: Yelp
3247 W Bryn Mawr Ave, North Park
While Java & Mug is a coffee shop, they specialize in desserts and other sweet treats such as Patbingsoo, a Korean shaved ice dessert. Java & Mug hosts a wide variety of board games to play and is a great family-friendly destination.
Cafe Ballou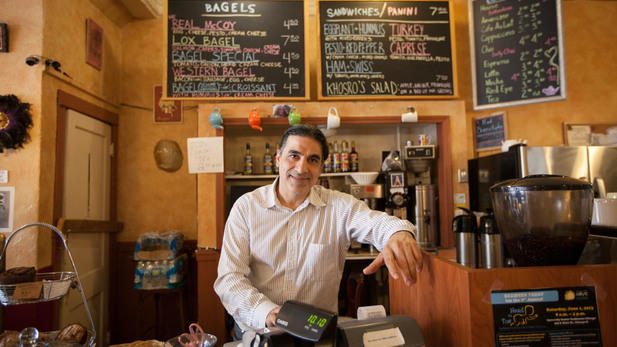 Photo: Timeout Chicago
939 N Western Ave, West Town, Ukrainian Village
If you're looking for a friendly neighborhood destination, Cafe Ballou is a guaranteed place to get a cup of coffee and a smile. In addition to the cozy, cheerful atmosphere, Ballou serves Intelligentsia coffee and offers chess and other board games to play.
Brü

Photo: Chicago Foodie Girl
1562 N Milwaukee Ave, West Town/Wicker Park
Whether you're after stand up comedy, yoga, art, or playing board games, Bru has a great selection of activities paired with Sparrow Coffee. Grab a cup and be entertained!
Cafe Mustache
Photo: Chicago Reader
2313 N Milwaukee Ave, Logan Square
Cafe Mustache has made the transition from beloved local coffee shop to coffee shop + alternative music venue + bar. Check out their transformation into their neighboring Logan Square space here. Despite their love of live music, you can still find a place of solitude to catch a game of chess while sipping a cup of Bridgeport Coffee. You can also wash down their signature homemade chili with a local craft beer. Cheers!
Bridgeport Coffee Company
 Photo: Yelp
3101 S Morgan St, Bridgeport
Speaking of Bridgeport Coffee...visit any one of their cafes for great coffee. We like the flagship location best for playing chess, reading on the patio, or coworking.  
Emerald City Coffee

Photo: Yelp
3938 N Sheridan Rd, Lakeview
Any pacific northwest transplant will love this Seattle themed cafe, which rocks nonstop indie music. Emerald City's food menu is nothing to be ignored either - their breakfast tacos go great on your plate while you seek check mate!
Star Lounge Coffee Bar

Photo: Tripadvisor
2521 W Chicago Ave, West Town
Around the corner from Dark Matter's roastery is a multi-story wonderland of coffee shop greatness. Star Lounge boasts a fantastic outdoor patio (pictured above), and has plenty of room to tuck into a sandwich, write a novel, or of course, strategize your next chess move.
Iguana Cafe
Photo: Metromix
517 N. Halsted, West Town
Last but certainly not least is Iguana Cafe, a European coffee and sandwich shop where you can also find delicious crepes (Nutella anyone?). While you can catch a chess game any time, this location has also been used as the official Chicago Chess Meetup destination.
Chicago Bars with Chess Boards and Tables
Plenty of Chicago bars have board games to borrow, but these watering holes in particular are the best spots for rook-ies.
Barrelhouse Flat in Lincoln Park
Use coupon AKP101 and Save $15 on the most effective, enjoyable, and complete
chess learning kit
.
Chicago is full of intelligent chess players, and Intelligentsia slinging coffee shops (and other venues) where you can enjoy a match with a bevv in hand.
Outdoor Chess in Chicago
A gentleman sets up informal chess games near the Art Institute on the southern corner of the block on Michigan Ave. There is no official meetup group, website or schedule, though he commonly does not play on Mondays.